Pujya Gurudev Swami Chinmayananda used to say "Catch them young!" Shishu vihar activities are inspired by this vision of pujya Gurudev where the seeds of our culture are sown into the tender hearts of our toddlers. Swami ji always emphasized the need of inculcating values in children by nurturing their curiosity, teaching them the importance of discipline and self-control in a way that brings out the best in them.
Giving shape to Pujya Gurudev's ideas on developing  young minds, Swamini Supriyananda conceptualized Shishu Vihar, with the first one conducted at the Hong Kong centre. As per Swaminiji 'The little ones have strong retentive power and are quick to learn. The double benefit of mothers also learning is that the rhymes and stories get strongly embedded in the minds of the children. Even three-year-old children can chant the Hanuman Chalisa!'.
Shishu Vihar Activities at ParamDham
Indian tradition has that been of providing values to the child from a pre-natal stage.  – Shishu Vihar endeavors to provide a platform for children to build a strong foundation for a happy and successful life.
A training course for Shishu Vihar Sevaks was conducted at ParamDham, Ahmedabad by Swamini Supriyananda. This was attended by 40 Sevaks and Sevikas from Ahmedabad with the aim of starting Shishu Vihar classes at ParamDham.
From august 2016 we have started a Shishu Vihar program for children below 4 years along with one of their parents at ParamDham. This program is focused on building a strong foundation of values and discipline and most importantly, a relationship of love with Bhagwan.  Shishu Vihar ensures that the personality of a child blooms to be one that enables him/her to face challenges of life.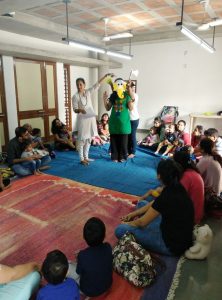 Classes follow a modern structure of play groups where children learn through devotional rhymes, stories, arts and crafts, appropriate to their age and development. These classes facilitate a unique interaction between the child and the guardian through which the child very subtly absorbs various concepts and values.  For effective learning outcomes, several props, music and an extensive use of colours, shapes and forms are utilized to relay information to the infant. From the age of five years, Bala Vihar continues to nurture the seed of spirituality in the child.
Details of the Shishu Vihar Class at ParamDham
Age group:  0 to 4 Years
Day: Sunday
Time: 10:00 am to 11:15 am
(The child must be accompanied by one of the parents/grandparents during the class.)
Venue:  Chinmaya Mission Ahmedabad, ParamDham, Jodhpur Tekra, Ahmedabad 380015
Registration Form: Please Click Here to download the registration form for Chinmaya Shishu vihar at Ahmedabad.
You can write to us at ahmedabad@chinmayamission.com.
Please Click Here to fill a simple form & stay connected with us. Hari Om!