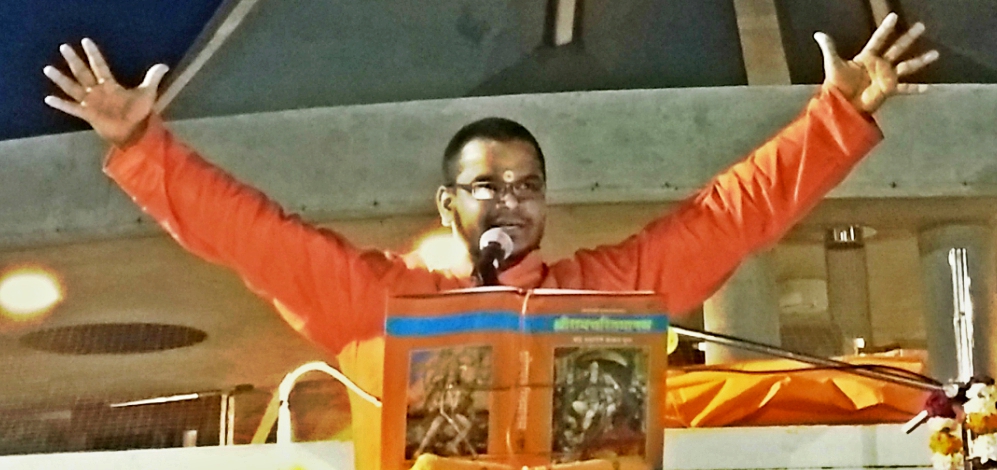 Our Acharya – Swami Avyayananda Saraswati


"I am waiting for the trained Brahmacharis to come up to give this message. Give them also 30-35 years, so that when I am gone, there will be not one but many more Chinmayanandas coming up, so that work will not stop but continue."
-Swami Chinmayananda
Our Guru Parampara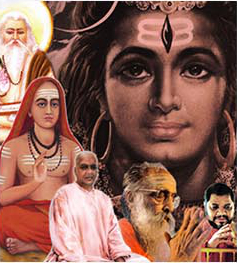 Adi Shankaracharya established the Dashanami Sannyasa Order, a monastic order with ten lineage names. Of these, Chinmaya
Mission belongs to the lineage and traditions of the 'Sringeri Matha' in Karnataka, India. The first acharya of this noble institution was none other than Shri Sureshvaracharya.
In the Sringeri Matha tradition, the Lord is worshipped as Deva in the form of Lord Adi Varaha, and as Devi in the forms of Puri Devi, Bharati Devi, and Kamakshi Devi. The main pilgrimage centre, or dhama, is Rameshvaram and the worshipped holy river, or tirtha, is Tungabhadra.
In this Bhurivara lineage, or sampradaya, the primary Veda is Yajur Veda, which reveals the Mahavakya: "Aham Brahmasmi". Sannyasis initiated into this lineage are bestowed with the title, or padavi, of "Saraswati" after their name (e.g., Swami Chinmayananda Saraswati).
Chief Acharyas
Swami Tejomayananda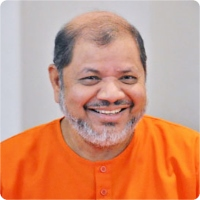 Swami Tejomayananda is the former Head of Chinmaya Mission Worldwide, a position he held since 1993 after Swami Chinmayananda attained Mahasamadhi. If Swami Chinmayananda served the cause of Vedanta with his service, knowledge and pioneering qualities, Swami Tejomayananda - fondly addressed as Guruji – completed that with his natural attitude of devotion. This is richly and abundantly evident in his talks, his singing, and his demeanour. But the gentleness of devotion arrived riding on the back of an intense education in physics, going up to a Master's degree. Born, Sudhakar Kaitwade to a Maharashtrian family in Madhya Pradesh, this physicist had a close encounter that changed the velocity, direction and path of his life.
Read More..
Swami Swaroopananda
Swami Swaroopananda is the Global Head of Chinmaya Mission. The mantle of this important responsibility draped his shoulders from 19 January 2017, when Swami Tejomayananda passed on the baton to him. He chairs Central Chinmaya Mission Trust (CCMT), the apex governing body of Chinmaya Mission Centres and Trusts the world over. He is the Chancellor of Chinmaya University (Chinmaya Vishwavidyapeeth) and Chairman of Chinmaya International Residential School in Coimbatore, one of the most well-respected and well-performing residential schools of India. An able administrator and a dynamic leader, his watchful eye and acumen keeps him abreast with developments of any consequence in the over 300 Centres under his guard. Devotion to his Guru, Swami Chinmayananda, and obeisance to his philosophy, guides his decision making and governance.
Read More..
Our Acharya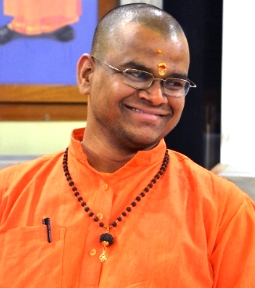 Chinmaya Mission is a spiritual organization established in 1953 by devotees of the world renowned Vedanta teacher, Pujya Gurudev - His Holiness Swami Chinmayananda. Starting off as a spiritual renaissance movement, driven by Gurudev's vision to impart the knowledge of Vedanta and its applicability across all spheres of life, Chinmaya Mission today has over 300 centres globally, transforming and inspiring millions of people with its educational, spiritual and charitable programs. The Mission is dedicated to the motto of giving maximum amount of happiness to maximum number of people for the maximum amount of time.
Realizing the need and importance of disseminating the knowledge of Vedanta in the society, Pujya Gurudev dedicated His life in taking the wisdom of Indian scriptures to the society facilitating individual and cultural upliftment. He travelled extensively across the world, conducting various Jnana yajnas, camps, workshops, and study classes day after day for more than 40 years! Thereafter, the legacy of Chinmaya Mission was spearheaded by His dear student and a humble devotee Pujya Guruji Swami Tejomayananda for more than two decades. Under the inspiration and guidance of Pujya Guruji, the Mission is now led by Pujya Swami Swaroopananda – the head of Chinmaya Mission Worldwide.
Pujya Gurudev had a special affection for the youth; with hardly any discourses, where he would not stress upon the importance of the youth in nation building. With the vision of "Harnessing Youth Potential through Dynamic Spirituality", Swamiji started spiritual forums for the youth across the globe, today popularly known as the Chinmaya Yuva Kendra or ChYk. These study discussions have touched and transformed millions of youth by providing them direction. One of those is Swami Avyayananda Saraswati – the resident Swami of Chinmaya Mission, Ahmedabad.
Associated with Chinmaya Mission since a tender age, Swami Avyayananda ji had an innate curiosity about everything around him and like every child, was particularly fascinated by the heroic characters of Ramayana & Mahabharata. He was a part of Chinmaya Balavihar that gave his curiosity, a sense of purpose & direction, turning him into a dynamic member of the Chinmaya Yuva Kendra. As a Yuva Kendra member, Swami ji not only participated in various activities but was instrumental in organizing & conducting various talks, camps and events.
After Swami ji's formal education in B.Tech (Dairy Technology), he served as a spiritual guide at the Chinmaya International Residential School (CIRS) at Coimbatore for over three years. Driven by an inner calling to know the real purpose of life brought him to the Gurukula of Chinmaya Mission - Sandeepany Sadhanalaya, Mumbai - where he meticulously studied Vedanta under the guidance of Pujya Guruji Swami Tejomayananda.
The Lord's grace, guidance of the Gurus and the study of scriptures transformed a young man into a catalyst of change, a guide for all devoted to the service of society. Deeply moved by the study of scriptures, Swamiji discovered the courage of rising above the mundane life of "so-called" professionals and committed himself to spreading the knowledge of scriptures.
Swami ji conducts various study classes, camps, seminars and workshops in various colleges and corporates touching on various aspects of life. As a profound thinker and a gifted orator, Avyayananda ji is well-known for his discourses focused on the challenges faced by the youth, professionals and young parents. Swami ji also conducts weekly classes on Bhagvad Geeta for the parents of Chinmaya Balavihar kids. A scholar of Sanskrit language and scriptures, Swami ji has also conducted a Purohit Course at Chinmaya Gardens, Coimbatore.
The series of talks titled "Saarathi-no-Sathvaaro" Geeta Jnana Yajnas, "Tulasi-na-Shri Rama" –Ramayan Jnana Yajnas, "Upanishad Ganga" Audio-visual Lecture Series, "Upanishad Dhara" - Upanishad Jnana Yajnas, "Mind Your Life" - Youth camp series and "Chinmaya Lifestyle workshops" for young adults conducted under Swami ji's guidance are very popular among seekers in the city. Swami ji's witty style of explaining profound principles of the scriptures with logical explanations and apt illustrations appeal to everyone greatly especially children and youth.
Contact Details of Swami Avyayananda:
Cell: +91 8320 757 927 | WA: ​+91 94 288 13 093
E: ahmedabad@chinmayamission.com
Address: Chinmaya Mission Ahmedabad, ParamDham, Jodhpur Tekra, Opp ISRO, Ahmedabad 380015, Tel: +91 79 2674 1527.