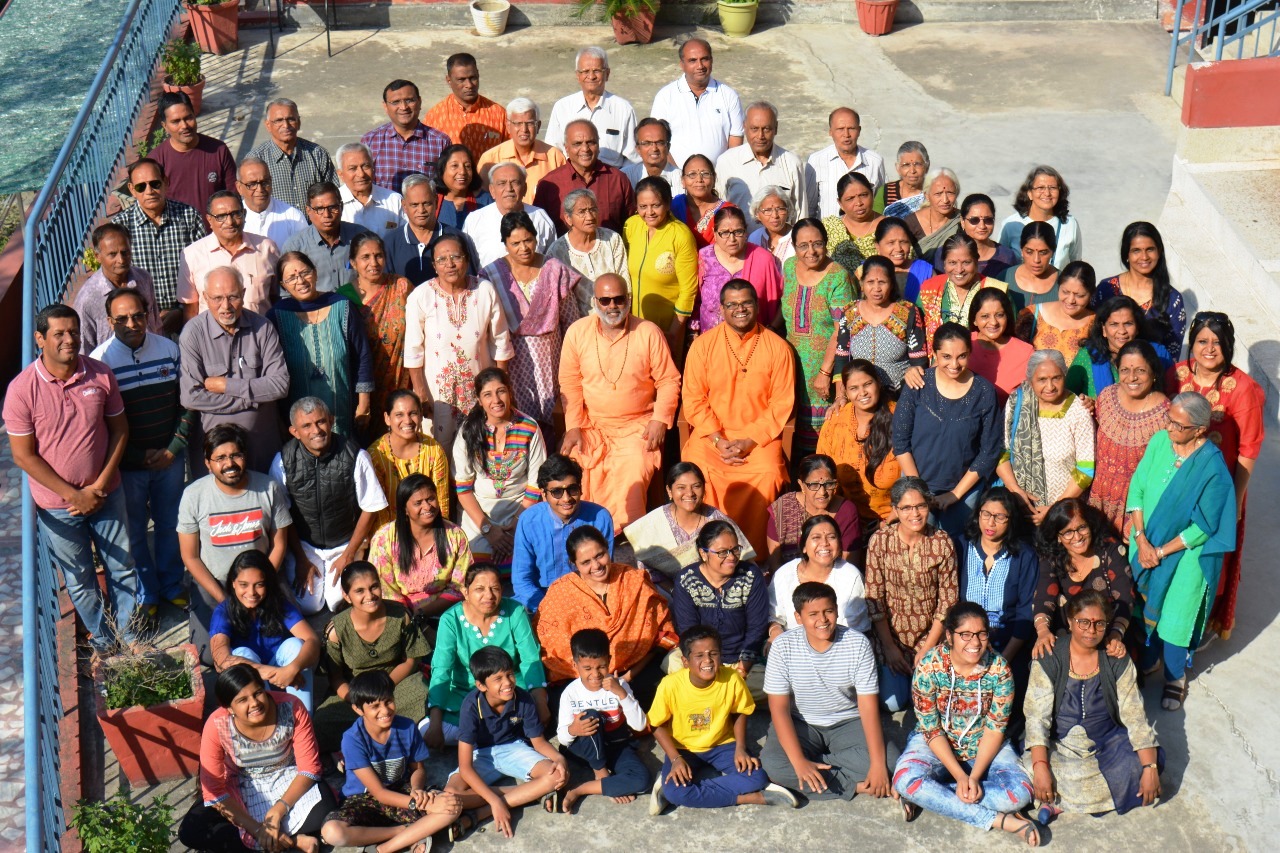 In the ever-divine presence of the Lord Shree Soumya Kashish and Mother Ganga, 80 campers from various parts of India – Ahmedabad, Baroda, Delhi, Dehradun, Hyderabad and Coimbatore soaked in the bliss and devotion at Tapovan Kuti Ashram, Uttarkashi for a week-long camp "Tapovan Mahima" organized by Chinmaya Mission Ahmedabad. From 26th May to 1st June 2019, the campers were absorbed in different activities and experienced the divine grace of Param Guru Swami Tapovan ji Maharaj and Pujya Gurudev Swami Chinmayananda ji.
The camp started by performing Ganga puja in the pious waters of the Ganga ji followed by the darshan of Lord Shree Soumya Kaashish, Gopeshwar Mahadev and other well-known temples near Tapovan Kuti, where Swami Tapovan ji Maharaj performed rigorous tapas. The camp schedule was filled with satsang, yoga, bhajans, japa, group discussions, performances, 'Walk Alone' (a novel idea of Pujya Gurudev), evening arti, sadhu bhandara, meditation at Tapovan Kuti and a yatra to Gangotri. The Pranav naad of Mother Ganga was constantly heard from the ashram and campers were blessed to have a darshan of Gangaji from almost all spots in the ashram!
The residential Swamin of Tapovan Kuti, Swami Devatmanandji's talk on Shree Soumya Kaashish Stortram was so exceedingly simple and wonderfully heart touching that all the time, seekers felt connected with the Lord and Swami Tapovanji Maharaj. Swami Avyayanandji, the swami from Chinmaya Mission Ahmedabad strongly invoked gratitude for our Guru Parampara through his discourses on the beautifully transcribed Tapovananjali and Tapovan Shatkam. Even the children enjoyed themselves thoroughly during the camp with different art and craft activities, chanting and attending a Chinmaya balvihar camp in a local school.
It would have been an understatement to say that not only did the seekers feel the presence of Swami Tapovan ji Maharaj throughout the camp but also experienced the grace of our Param Guru and felt themselves truly blessed. Hari Om!
A report by Smt. Damini ben Desai